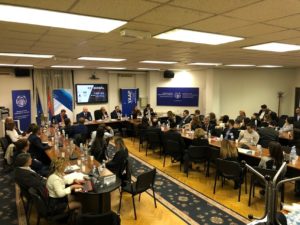 On 7th November, attorney at law from our law office, Sara Pendjer, participated at the round table organized by the University of Belgrade, Faculty of Law along with Vienna International Arbitral Centre (VIAC), Belgrade Arbitration Center, Young Austrian Arbitration Practitioners (YAAP) and Under 40 Section of Serbian Arbitration Association.
The aim of the roundtable was to stress out the advantages of bringing arbitration to the region and to its institutions, in particular VIAC and BAC. The emphasize was on the benefits related to:
• Costs,• Communication in local languages,
• Comprehension of local procedures,
• Location and moderate travel expenses.
Opening statement was given by Mr. Günther Horvath (president of VIAC) and Prof. Maja Stanivuković (president of BAC) while the discussion was moderated by Milan Lazić of Karanović & Partners and Filip Boras of Baker McKenzie Vienna and YAAP. Round table consisted of three panels, led by an Austrian and a Serbian lawyer (Philipp Peters of Konrad & Partners, Dragan Psodorov of Joksović Stojanović & Partners, Natascha Tunkel of KNOETZL and Jovan Nikčević of Baklaja Igrić Tintor). Sara Pendjer being also co – chair of Under 40 Section of Serbian Arbitration Association was on the panel along with Mr. Helmut Ortner (Counsel in WilmerHale London office) which dealt with Innovative ideas to make Regionally Handled Arbitration more attractive. Closing remarks were made by KNOETZL Partner Patrizia Netal and Assis. Prof. Milena Đorđević of the Arbitration Association.
The event was attended by more than 70 lawyers incl
uding but not limited to attorneys at law, counsels, in – house lawyers and law professors.
For further information on regional arbitral institutions please contact our law office.