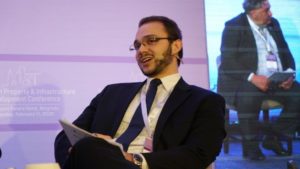 NSTLAW has had the pleasure to be invited to take part in the 5th Serbian Property & Infrastructure Development Conference, which was held on February 11, 2020. This annually held venue gathers representatives from some of the most prominent international companies and financial institutions active on the Serbian market, as experts in their respective fields and participants, along with representatives from the public authorities, all from various sectors of the economy.
This year's conference has covered many hot topics, ranging from challenges of future urban project investment perspectives, property management of shopping-malls, the real estate market prices forecast, green field investment management, following with that topics of energy efficiency, commercial and residential construction and urbanism matters, as well as property valuation and real estate project funding subjects.
NSTLAW Attorney at Law Mitar Simonovic has had the honour to share the conference's stage as a speaker on the panel "Real Estate Project Funding: Concerns and Prospects", along with Dusica Gakovic from Deka Inzenjering, Onur Ekmen from BEEOANT Turkey, Milan Cojbasic from Intesa Leasing, and Ervin Pasanovic from Adventis Real Estate. With each speaker conveying their own perspective to the subject matter, the discussion went along the lines of the prospects of real estate project funding as means to "kick-start" a whole country's economy, but also to-the-point issues, such as concerns regarding mortgages on objects under construction as collateral for project funding, as well as newly formed practices in the Serbian market that pertain to real estate residential projects, that are being micro-financed by the future residents of the residential complex in construction, including the prospects of the under-utilized option of financial leasing of real estate.